July 1903
(pages 307->308)
Railway and Locomotive Engineering
A Trip Over the Scenic Short Line.
It was my good fortune on May 2 to make the trip from Colorado Springs to Cripple Creek on the Colorado Springs & Cripple Creek District Railway as the guest of Mr. William Lennox, vice-president of the line.
I doubt very much if any other road can lay claim to as perfect a roadbed as the Scenic Short Line has. Built high up along the mountain sides, the line, standard gauge, laid with 75-pound steel rails and ballasted with disintegrated granite, is entirely free from dust in summer or snow in winter.
Although the line is all curves and turns, the roadbed is so perfect that its many reverse curves are imperceptible to the traveler, and consequently no one ever suffers from the sea-sickness so often experienced on mountain roads.
The engineering achievement is so marvelous and stupendous as to beggar comparison with anything of its kind. No expense has been spared by the management to provide for the comfort and safety of its patrons. The coaches are of the latest design and are truly traveling palaces.
Each train is provided with observation cars free to all passengers. The locomotives are powerful mountain climbers and the best that money can purchase.
Our day for sight-seeing was clear and warm - ideal Colorado weather - and added greatly to the enjoyment of the enchanting and bewildering scenery en route.
As we left Colorado Springs on the regular morning express, Nature began to unfold her beauties to us at once and in rapid succession. Scarcely two miles out and to the right below us lay Colorado City, the first capital of Colorado.
Then came the Garden of the Gods, and a little farther up the famous Manitou nestling at the foot of Pike's Peak. We are now in Bear Creek Canon, away up among the lofty mountains, and nearing North Cheyenne Canon. Skirting around Cheyenne's rim and we are at Point Sublime, seven miles from our starting place. Looking down through beautiful North Cheyenne Canon we get a magnificent view of Colorado Springs, 1,200 feet below us.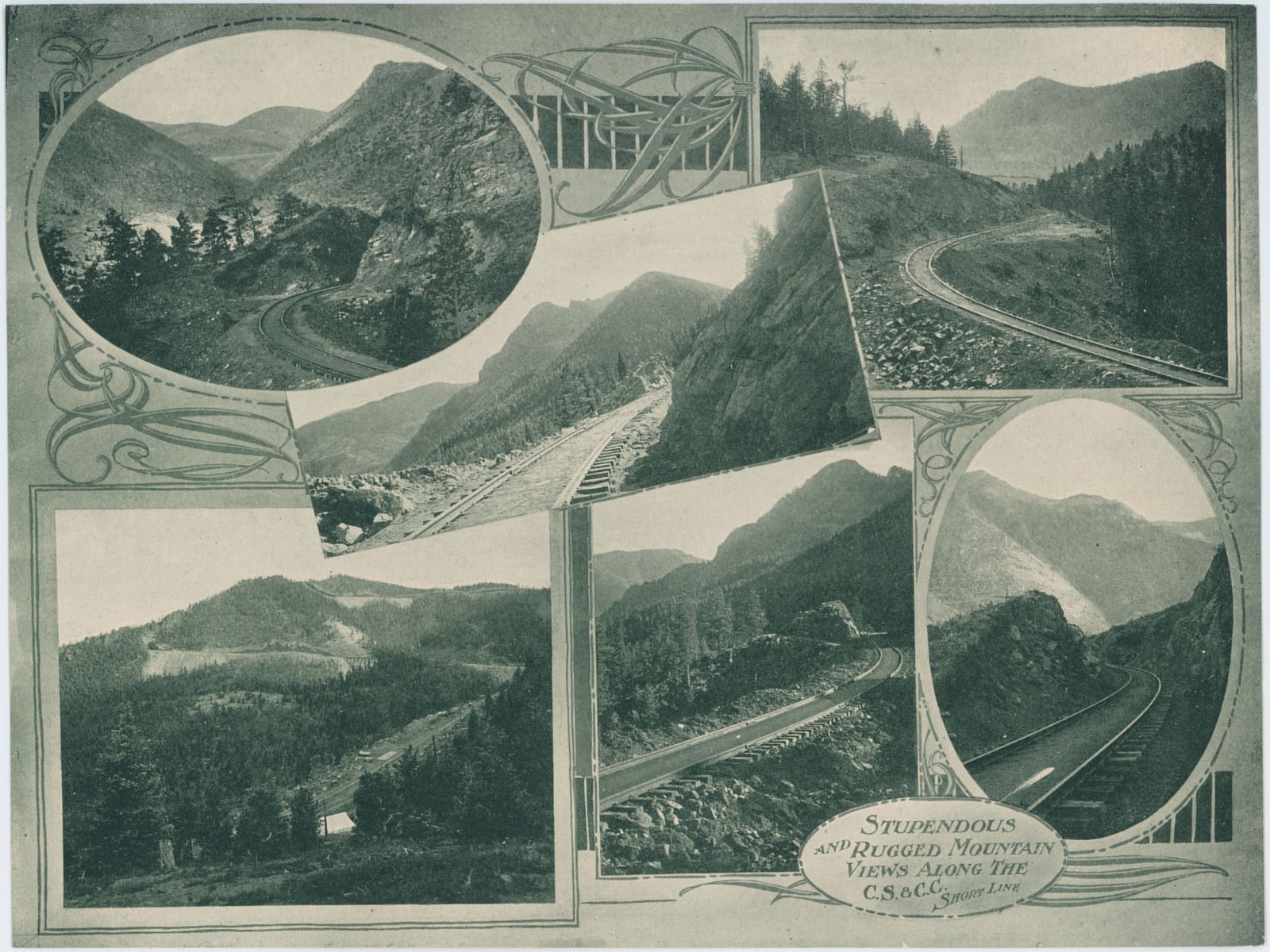 Combi 6-Views; Stupendous and Rugged Mountain Views Along the C.S. & C.C. Short Line
Still moving onward and upward, a short distance to our right we see the Sparkling Cascade Falls, hundreds of feet above us. Soon we are at Fairview, the confluence of North and South Cheyenne Canons. Who has not heard of beautiful South Cheyenne Canon, forever associated in memory with Helen Hunt Jackson, the gifted writer, whose body was laid at rest there in a lovely spot near Seven Falls.
We are moving on to new wonders. Several thousand feet above us is somber old St. Peter's Dome, a mountain of granite, one of God's master works, looming up majestically and defying the elements for ages.
Our iron steed, throbbing with every exhaust as though a thing of life, follows the serpentine trail up St. Peter's and brings us to the opposite side of South Cheyenne.
The matchless view here baffles all description. There is nothing to be compared with it elsewhere.
Following the trail we reach Duffield's, where we get our last view of Colorado Springs and the vast expanse of rolling plains off in Kansas, a hundred miles away. Three miles from here and twenty miles from our starting point, we cross the summit at an altitude of 10,360 feet, or almost two miles above the sea level.
Combi 5-Views; Deep Rock Cut | In North Cheyenne Canon | Broadmoor From Point Sublime | Circling South Cheyenne Canon | Emerging From Granite Tunnel
As we begin to descend we get a fine view of Pueblo, forty-five miles away, with her factories and smelters belching forth clouds of smoke. Onward we roll, now over mountain torrents, now through aspen forests, and in full view of four tracks below us which we shall pass over.
Soon we are at Clyde and gazing at the panorama of Cathedral Park, with its rocks in fantastic shapes, eroded by the elements thousands of years ago.
Nearing the end of our journey we see to the left the famous gold camp, Bull Hill. At Cameron we take the line that diverges to Cripple Creek. Here we have a magnificent view of Pike's Peak and the Sangre de Cristo (Blood of Christ) range of mountains.
After a short stay at Cripple Creek we took the electric line to Victor and inspected a gold mine. The whole country for miles is dotted with dividend-paying mines, which with their groups of buildings look like monster bee-hives.
From Victor we took the steam line again and began our homeward trip. The continually changing scenes from different vantage points on our return were as fascinating as those we enjoyed on the upward trip.
I know that the members of the Air-Brake Association, who, through the kind hospitality of Mr. F. S. Smith, general superintendent, and the management of the line, had the good fortune to make this same trip, will agree with all I have written here, but I feel my description is entirely inadequate.
To our eastern friends contemplating an outing this summer I would suggest that a trip over the Santa Fe or Rock Island to Colorado Springs and thence over the Scenic Short Line will repay them a thousand fold in present pleasure and future remembrance.
Jos. A. Baker.