Economic Mill:
Page Last updated: 5 July, 2017 15:50
Thanks to a listing on ebay for some expansive gold stuff (bar/medallions) I found a short newspaper article related to the fire that removed this mill from the face of the earth and into the history. As the image was not very clear I will rewrite it in here below instead of showing a screenshot of it - you find the info at bottom of page as Source 4.
---
14.01.2006
Another year is here, and I still have tons of stuff to do, like this mill. None is done, sorry, but I have found what I think is a date for the picture below with that Prince Hohenlohe in it. Seems like the good Prince and party had a roundtrip in Colorado in summer of 1904 as I found an article about him visiting Breckenridge on his tour of Colorado! Cool to find that.

---
05.11.2005
Not really an update, I have put this mill aside as I got stuck on the figuring out part...

But earlier this year I bought an old folder of ebay, and that had one big surprise for me, one that I was so happy to get!!

Just look at the picture at right of here, don't that look cool or what? LOL
Now, to be able to make a model of this, the cars, and the tunnel and the mine/mill complexes...
Oh well, life has to turn around soon so I can get back to Cripple Creek modeling.
I found this lovely picture in an folder, a celebrity visited Cripple Creek! His visit was for one day, 28th of May 1904, I've learned that in later years. ->
---
26.09.2004
I've been busy with other stuff, and been waiting for new memory for the AMD. We now have 2GB of RAM in it, 1GB stick times two from Crucial - and it behaves much better. Trainz and gmax can now be open at the same time without crash - but still I haven't had as much time as I wanted to work on the mill.
I've been doing some work the last two days, I want a working model for a project I have in my head - so I need to speed up my progress.
What I have done is add the building that cover the tunnel opening, and a basic brick box to be used as a start on the office/assayer building - as seen on far left on some of the real pictures I have.
So, to show some progress to who ever is out there reading this, here's some pictures!

My basic model of the structure covering the tunnel.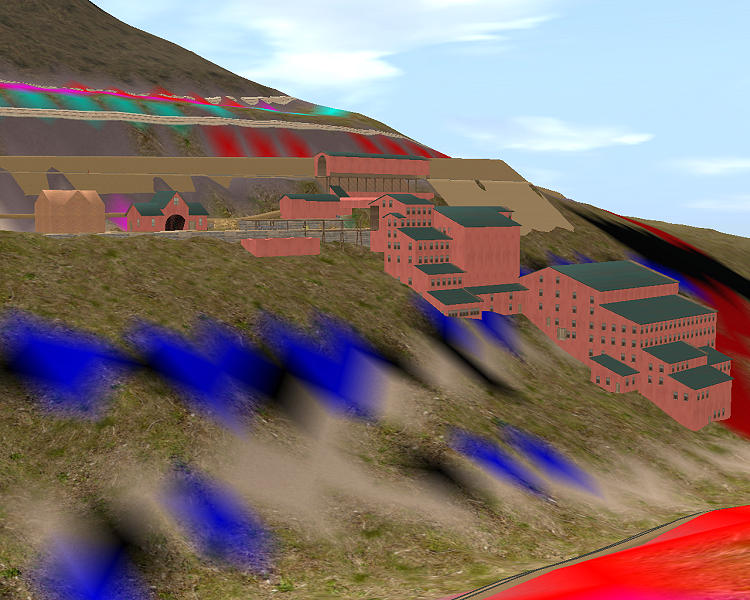 View from Northwest of the model inside of Trainz.
---
04.09.2004
For the last week I've been using this model to test out a new computer we bought on a trip to Norway we just been on. The computer is a AMD 64bit, but seamed to have some problems when running both Trainz and gmax so I've had to try figure that out.
But, this page is not about that, so, instead, latest news are that I got the book I waited for - almost missed it in Norway! Book is nice, it's old, fragile, seams to have all the maps and such - but, the small words it had about this mill, was not very helpful alas...

But, I've been trying my best of matching pictures and Sanborn map, but I'm about to stop again as I just can't seam to be able to match is as good as I want!
Below is the pictures for today, first out is a couple of screens showing my model and it's "model" - pictures of real mill! After that, you will see some more pictures of the model and the 18-inch mine train I guess they used - except, it was a trolley system, the yellow engine in pictures are a battery train for lack of better...
A view from the hillside.
Mine train on way to mill.
Mine train on trestle.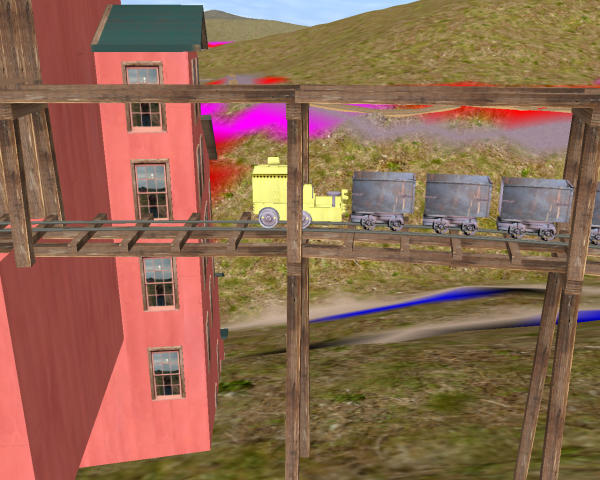 Mine train almost at mill.
And, this is the view from the train itself, coming out of the tunnel from the Gold Coin.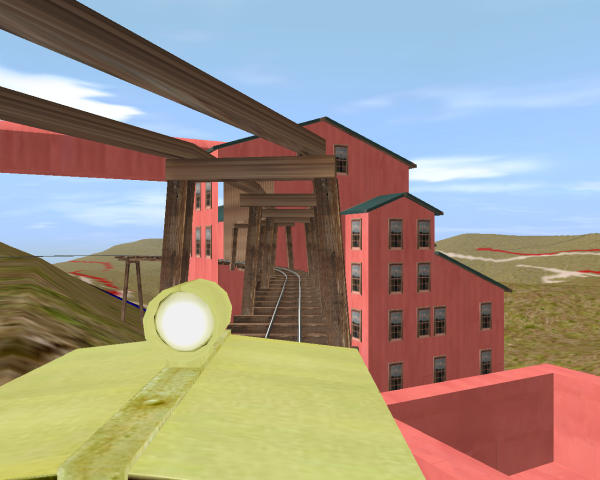 I have yet to model the road that was above the track, this part is mostly guesswork.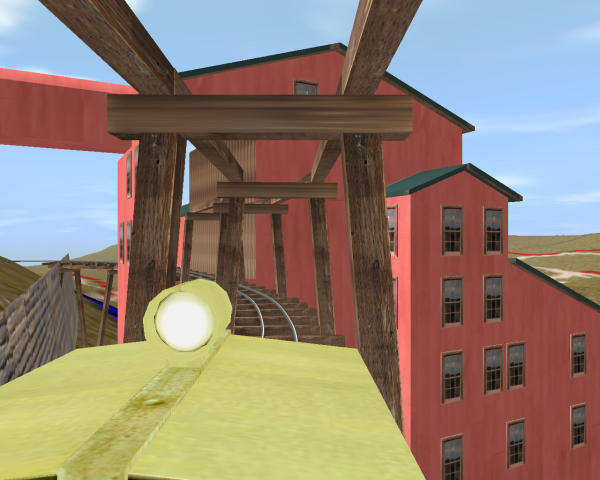 Pictures I have is not good enough to make out details, but it looks quite good I think...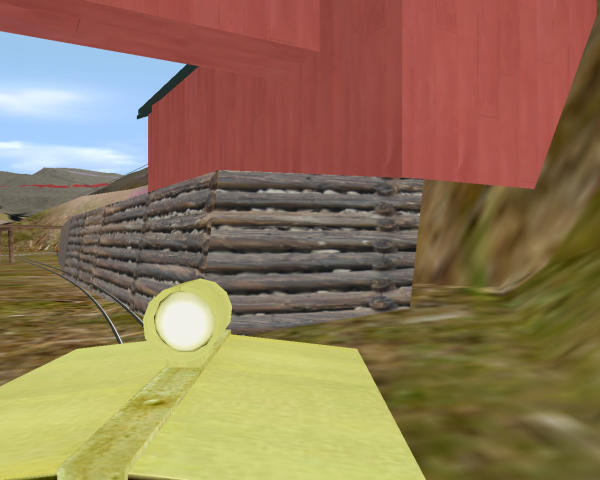 This part I made today, as you see, the building at left is higher up then track...
---
06.08.2004
I've made some doors so the workers can get in and out - and from what I can tell, their now happy...

Other then that, not much have happen to the mill model.
Did put a Sanborn Map on the bottom of the model, more or less scaled to the model as I couldn't get the info from my CAD program that I needed as I had removed the Sanborn Map after I traced it - therefore, no X,Y coordinates to use...
Reason I put in the Sanborn was that I had hoped it would help me place this mill better inside of Trainz - but after spending some time in there I still think it's not good enough.
---
05.08.2004
Latest update on my never ending job on the Economic Mill is that I finely after nearly 8 months have open up my gmax file again and started on doing a model for Trainz!
My computer do not like to run my CAD program in 3D anymore, so I haven't actually drawn anything new - just been busy last 3 days getting the X,Y,Z info out of my CAD drawings for the windows so I could put them into my Trainz model.
As a window texture I've used a picture I took at the Western Mining & Industry Museum in Colorado Springs. The stamp mill they have there had some nice textures I just had to have a few pictures of...

The roof is for the moment made from a picture of a red tarpaper roof in Alma, Colorado recolored into a blackish tarpaper roof... And, walls are made from a reddish iron/metal siding picture of the Coeur D' Alene mine in Central City.
Today I hope to make a couple of door textures as I would guess the workers in the mill would like to get out once in a while and not having to crawl out the window...

I will also try to put in some of the roof awnings or whatever they are caller, think I did drawn them long time ago. Other then the above mention I don't think I can get much further as I still would prefer to work from a drawing where time is spent to try match pictures as close as possible then to just spend some time in gmax just making something that's more or less correct.
After I got some weeks back an old article about a Chlorination Mill in Florence, Colorado with some drawings from that one I got a little better understanding on some of the words used on the Sanborn Map, but still, there's so much I don't know!
I bought my self a expensive book called "The Official Manual of Cripple Creek", dealing with the companies of that area in 1900 in hope of learning more - didn't find much of interest for this mill.
I also have a book in shipping dealing with the Geology of the area, according to a friend that one is suppose to have a short description of the workings of this mill + several pages about the Gold Coin Mine which this mill was connected to via the Columbine/Victor Tunnel - so I eagerly awaits the day I can have a look in that book!

But, for now, I will put in some doors, fix the textures so it's proportions are more correct and then, try make my self a new mine tunnel from a short description of the Columbine/Victor tunnel and have it connected to my mill in Trainz! The left most picture under here actually shows the tunnel model I use, as of today, as the Gold Coin connection tunnel. Seen about 1/3 down from upper left in the hole in the ground.

---
11.10.2003
Well, I've been working on and off for some time now - been busy trying to learn some dutch also... The main problem of hitting the wall is bugging me (again..), even with the Sanborn Fire Insurance maps on hand. Mostly it is the old problem of missing info and what to do with the walls/sides I don't see in the pictures...
The most recently problem with the Sanborn map and the pictures not agreeing with each other, have made me to almost give up on this one and just try following the pictures as close as I could, but using the Sanborn as a starting point, and as a reference point. So it is sort of turning into some sort of a caricature of what it was, not a perfect match...
---
22.09.2003
And, here is some older views. The lower building (roaster building) is nearly redone like these pictures shows:
---
03.08.2003
Older info, Fig.5 is a scan of the Sanborn map dated 1900, I've cleaned it up since this scan, and have been figuring out measurements from it. But, even if it did answer some of my question it raised even more since this building don't match all my photo's as mentioned earlier..
And, there are numbers that I think relate to a table or something with more info, and I learned that the maps was originally made in color, but my source only has the B/W copies that was microfilmed some years ago - wish I could get hold of color copies instead...
And years later I was to find just that, color copies of the Sanborn maps!
Anyway, Fig.6 shows what I had made until my Norway trip, but since this didn't match what I have found out by tracing the Sanborn map (Fig.5), I decided to redo it.
OK, it wasn't that off, more like a drawing with a scale from around 1:90, and mine was draw it in H0 scale (1:87)!

But, some measurements where in a scale higher, like 1:93, some in 1:88 and so on, but working with just pictures I'm still quite happy I got this far.
It is just that quite happy is not what I want, I want perfect - even if I know there are almost no chance of me ever get to that point, but still I started to redo the drawing - even if I have to spend lots and lots of hours of work all over again...
---
17.05.2003
Economic Mill in Eclipse Gulch is my first attempt of buildings/structures of the Cripple Creek District. Mainly because from the very first picture I saw of it, it SCREAMED to me, please, please make a model of me!!

It have taken long time, but I'm about half done, making plans from pictures is not easy!
But, I recently got an old picture of the buildings that helped me make out a little more of the left side - as you can see here on the right on Fig.2 - thanks Mike Hurtt!
From my books I have found 5 pictures, the one Mike sent me made #6 - and all 6 of them shows a different building!! Not much, but it is obvious that the Wood brothers rebuilt they're mill "all the time"...
I bet they did it just to confuse me about a 100 years later...

Anyway, I have to use some artistic liberty since this building is long gone - it burned down early morning on the 30th January 19071. - but I think I've closing into capturing the feeling of this massive building! And I'm happy with that.
Fig.3
Page58 in the
Last Gold Rush
5.
Credited to the Pioneer Museum, Colorado Springs
I started by using what I suspect is the oldest picture of the complex (Fig.3). This one shows the front very good, so I scanned that and put it into a CAD program called 3rd PlanIt.
There I scaled the picture so the windows matched some H0 scale windows I have that looked similar to the ones in the picture.
After that it was just using that size to try match the other measurements up so it at least seams to match the pictures, not always easy when you have 6 different ones...
Well, OK, they aren't that different, but it has made me confused sometimes. Anyway, Fig.4 is showing the drawing I first made.
Then, I got sick and tired of this massive work, so I took a break for a month or two. That lasted until I saw this last picture on the Internet (Fig.2) and just had to try get it. It made me feel for starting the drawing process again - and make this page your reading...

Until today I've constructed some of the buildings in virtual H0 scale using 3rd PlanIt just so I could check that my drawing is correct. The first picture (Fig.1) is showing the model I made.
But, I've still has some more drawing to do, not to even mention the actual modeling of this massive structures in real life model and virtual model!
So, I'm back to the drawing board!
---